I love watching television shows. The story is neverending and you get more and more acquainted with the characters every week. One of the first shows I really started following was off course Friends, but after that I really fell in love with Buffy the Vampire Slayer. It was a show with a girl who could kick ass, lots of magic and scary monsters, everything a young girl loves. It made me have great dreams of becoming something supernatural and leading a life full of danger and excitement. After that I worked my way through other shows like Battlestar Galactica, Chuck, Gilmore Girls, The O.C. and everything else that seemed a bit interesting. I just finished watching all of the available episodes of Modern Family which means I'm looking for a new series to watch again. I'm trying Torchwood and just saw the first episode of the American version of Being Human. I'm not raving about anything just yet, but you never know what's on the horizon. When thinking about new shows, I run through a list in my head about what shows I liked and why I liked them. This way I remembered watching Pushing Daisies and Wonderfalls, both made by Bryan Fuller. The shows had great stories and sadly ended way to soon. Pushing Daisies, his best known series, is about a piemaker named Ned (played by the charming Lee Pace) who kills and revives people with his touch. The show had next to this great story, such wonderful imagery and the best voiceover. It had bright colours, awesome fashion worn by Anna Friel and even singing by Kristin Chenoweth (who you might know from Glee). Wikipedia describes the show as a forensic fairy tale, which is the best description I've ever heard. I'll need to write a forensic fairy tale one day!
Wonderfalls was less colourful, but funnier. The show is about a Jaye, a girl who just got her degree in philosophy, works at Wonder Falls Gift Emporium next to Niagara Falls and lives in a trailer. Then one day a wax lion from the store starts talking to her, which turns her world upside down. It's great to see how the talking figurines start to take over her life and make her do all these good deeds. I really felt like Jaye at the time, also studying philopsohy and having no clue what I wanted to do with my life. Unfortunately, the show was cancelled after only four episodes. They did finish the entire first season, which leaves us with a total of 13 episodes, but you do notice the series wasn't meant to end there.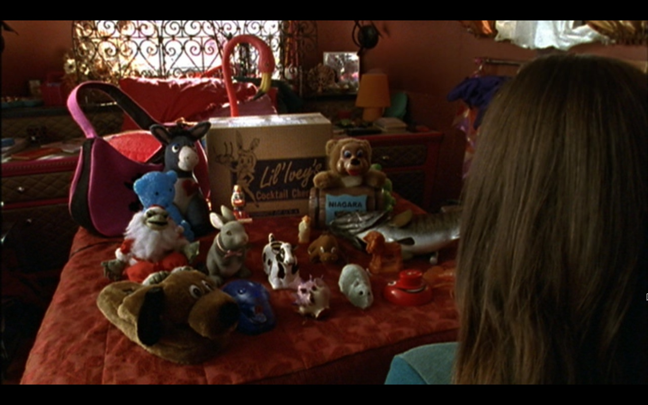 Bryan Fuller is currently working on several projects, but nothing will be done in the near future. Which means no new show for me! But there is still one show he made, that I haven't seen yet. The series Dead Like Me is about a girl who died and now has to work as a grim reaper. It always sounded really cool, but I was never that interested. All this talking about Bryan Fuller's shows did make me a bit excited about it, so I think I've found my next show! If you have any other suggestions or just want to talk about shows you like, leave a comment!